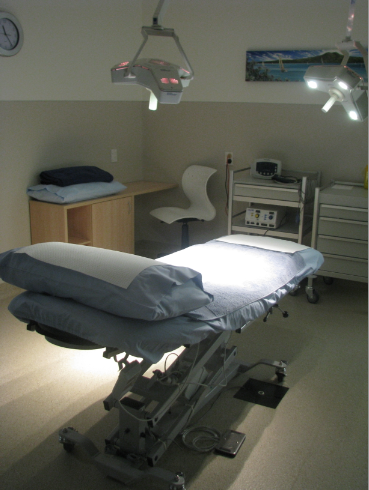 Why travel to Manukau, Remuera, or the central city to have surgery when you can have your procedure in the local area?  The last thing you want to have to think about is negotiating Auckland's traffic getting to and from the operating room on the day of surgery!
For this reason Marina Specialists has included a fully equipped operating theatre for surgical procedures under local anaesthesia with or without oral or IV sedation.
The unit boasts state of the art equipment including ceiling mounted operating lights, air-conditioning, adjustable operating table, diathermy unit, suction unit, vital signs monitor (pulse-oximeter), high spec steriliser, dedicated scrub sink, and resuscitation equipment (including defibrillator).
The operating room is stocked with a comprehensive selection of surgical instruments and operating disposables.
For patients requiring oral or IV sedation there is a recovery room adjacent to the theatre where you can relax until you are ready to go home.
Our specialist theatre nurses, Marianne and Tania, are available at all times to assist with procedures and look after your every need.
All the major and most minor medical insurance companies have accredited the theatre.
Attendance times and contact details for our specialists.